RCCO Ottawa Centre
CRCO Section d'Ottawa




PO Box 2270 Station D
Ottawa ON K1P 5W4
Welcome to the Ottawa Centre of the
Royal Canadian College of Organists
Welcome to the Ottawa Centre RCCO website. Please use the menu above to browse our site. If you are using an older browser and don't see the menu then you can use the text menu at the bottom of every page.
The Ottawa Centre of the RCCO sponsors a variety of programs throughout the year, such as organ crawls, workshops, masterclasses, discussions, and dinners. The Centre also runs an organ concert series Pro Organo.
NEWS BRIEFS
STUDENT ACADEMY BUSRARY
At the Centre Executive meeting on November 24, it was approved that the Centre will provide up to four bursaries in the amount of $250 each to allow teenaged organ students from Ottawa, recommended by teachers who are members of the Ottawa Centre, to attend the Student Academy which is being offered at the RCCO National Convention, Festival at the Forks, to be held in London, Ontario, in July 2014. This bursary programme will also be carried on for future RCCO conventions which offer Student Academies (we believe that Winnipeg 2015 will have one too). The money is to be provided from the Centre's Development Fund, which is used for educational purposes.
Students, please plan to attend the Academy programme in London from July 6 - 8, 2014.
More information will appear in the new year.
---
GODFREY HEWITT PRIZE WINNER 2013
The Godfrey Hewitt Prize, amounting to $5,000, is given to the first place winner of the National Organ Playing Competition held every other year at the National Convention. This year's winner is SHAWN POTTER. Shawn was also a winner of the Godfrey Hewitt Scholarship in 2010.
---
GODFREY HEWITT SCHOLARSHIP WINNER 2013
The Godfrey Hewitt Memorial Scholarship for 2013, amounting to $5,000, has been awarded to SARAH SVENDSEN. Read it all in the Press Release.
---
ORGELFEST 2013
Orgelfest 2013 is now over and what a success! Thank you to Karen Holmes for leading such a wonderful team.
You can find Post Convention information such as interviwes, reviews, workshop handouts, a slideslow etc. on the Orgelfest 2013 home page.
ORGELFEST 2013 ITEMS FOR SALE
Benjamin Britten - Simple anthems recommended by Giles Bryant
The Centre still has some new copies for sale of the anthems recommended for use by ordinary church choirs by Giles Bryant at his Orgelfest workshop. Available, at $3.00 per copy, are:
24 copies - A Hymn to the Virgin (SATB plus simple solo quartet)
23 copies - The Birds (unison anthem with piano accompaniment)
If you would like to purchase any of these, please contact Frances Macdonnell at 613-726-7984, or e-mail
TOTE BAGS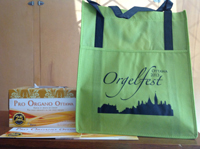 We have a few tote bags remaining which may be purchased as a souvenirs of Orgelfest 2013. The bags are $2 each and may be ordered from Mai-yu Chan at 613-726-0818. You can arrange pick-up at the next Pro Organo concert or centre event.
---
CENTRE HISTORY
The Centre History kiosk made its debut at Orgelfest 2013. This is an interractive display which places significant events on a timeline. Bill Vineer supplied muich of the content and Rick St Germain put it all together. Click on the graphic below to access this display.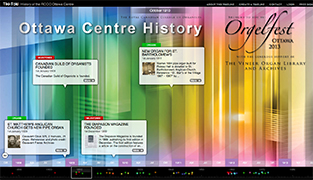 ---
For contact information, see our
Executive List
or press the button below.
---
©Copyright MMXIII RCCO Ottawa Centre
RCCO-Ottawa Centre is a Registered Charity: 11912 6498 RR0001

This page has been validated by
w3.org
validation as XHTML 1.0 Transitional.
W3C validation will ensure forward compatibility with handheld devices. It also increases the web accessibility for those using accessibility enhancements.
This page was last updated on: Tuesday, 26-Nov-13 00:16:03 GMT