RCCO Ottawa Centre
CRCO Section d'Ottawa




PO Box 2270 Station D
Ottawa ON K1P 5W4
Welcome to the Ottawa Centre of the
Royal Canadian College of Organists
Welcome to the Ottawa Centre RCCO website. Please use the menu above to browse our site. If you are using an older browser and don't see the menu then you can use the text menu at the bottom of every page.
The Ottawa Centre of the RCCO sponsors a variety of programs throughout the year, such as organ crawls, workshops, masterclasses, discussions, and dinners. The Centre also runs an organ concert series Pro Organo.
NEWS BRIEFS
Members' Recital at St Matthias
On November 22, 2015, the Ottawa Centre held a Members' Recital at St. Matthias Anglican Church to celebrate the casavant organ. St Matthias held its last service in February 2016. To mark the occasion, Dr. Dierdre Piper, organist at St Matthias, wrote "Rhapsodic Variations on Engelberg" which was played at the recital and as the final voluntary at St. Matthias. You can hear Dr. Piper play this wonderful piece here.
---
ORGAN LESSONS for BEGINNING ORGAN STUDENTS
The deadline for applications for organ lessons is March 31. This organ scholarship is available to piano students who wish to take organ lessons. Posters are available in English and French. It would be appreciated if you could print these posters and post them in suitable locations.
---
Non RCCO
2016 OSM Manulife Competition – now open to organists
The OSM Manulife Competition is now in its 76
th
year of existence. Until this year, the competition was open to piano, voice, strings, winds and percussion on a 3 year rotation cycle. For the very first time this year, the competition is open to organists.
Read more »
« less
The international jury includes Douglas R. Sheldon, senior vice-president and director of Columbia Artists Management, Olivier Latry, titular organist of the Grand Orgue at Notre-Dame Cathedral in Paris and organist emeritus of the OSM, John Grew, artistic director of the Canadian International Organ Competition and professor emeritus of the McGill University School of Music, and Matthias Naske, intendant of the Vienna Konzerthaus. For further information visit their website at"
Just click this link to know more: http://www.osm.ca/en/prizes-and-regulations/prizes-and-scholarships
---
CENTRE HISTORY
Please note that this timeline can be found by selecting Centre Info | Web Archive pages | Ottawa Cente History Timeline on the menu above.
The Centre History kiosk made its debut at Orgelfest 2013. This is an interractive display which places significant events on a timeline. Bill Vineer supplied muich of the content and Rick St Germain put it all together. Click on the graphic below to access this display.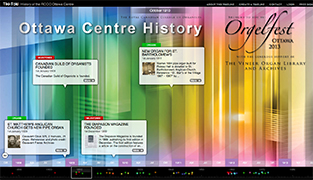 ---
For contact information, see our
Executive List
or press the button below.
---
©Copyright MMXVI RCCO Ottawa Centre
RCCO-Ottawa Centre is a Registered Charity: 11912 6498 RR0001

This page has been validated by
w3.org
validation as XHTML 1.0 Transitional.
This page was last updated on: Wednesday, 09-Mar-16 19:33:29 GMT