RCCO Ottawa Centre
CRCO Section d'Ottawa




PO Box 2270 Station D
Ottawa ON K1P 5W4
Welcome to the Ottawa Centre of the
Royal Canadian College of Organists
Welcome to the Ottawa Centre RCCO website. Please use the menu above to browse our site. If you are using an older browser and don't see the menu then you can use the text menu at the bottom of every page.
The Ottawa Centre of the RCCO sponsors a variety of programs throughout the year, such as organ crawls, workshops, masterclasses, discussions, and dinners. The Centre also runs an organ concert series Pro Organo.
NEWS BRIEFS
GODFREY HEWITT SCHOLARSHIP WINNER 2015
The Godfrey Hewitt Memorial Scholarship for 2015, amounting to $5,000, has been awarded to RACHEL MAHON. Read it all in the Press Release.
---
PRO ORGANO
Next season's Pro Organo concerts have been announced. Details at ticket info are available on the P. Details and the programme are found under the Pro Organo menu.
---
EDUCATIONAL PROGRAMME, 2015 - 2016
THE CHOIR-TRAINING CERTIFICATE EXAMINATION
Frances Macdonnell
You may recall that in the academic year 2013-14, I offered a series of six workshops to help students prepare for the Service-Playing and Colleague examinations. In 2015-16, I would like to do the same thing for the RCCO's Choir Training Certificate Examination.
Read more »
« less
For some years now, the RCCO has offered this examination, aimed at parish church musicians working in real-life situations in small churches, through which they can demonstrate their ability to plan a choir programme in a church, direct a short choir practice, briefly discuss rehearsal and performance techniques, answer some straightforward written questions on choir management and choral planning, and write some simple harmony. The outcome of this examination is a Certificate of Proficiency in Choir Training.
The difficulty is that so far, no member of the College has as yet taken this exam! What is putting people off from attempting it? One possible answer is that the Examination Requirements say that both sections of the exam, practical and written, must be taken at once. Although this exam is in fact not difficult, that requirement may have made it look a little daunting. I have therefore obtained the agreement of the National Examinations Committee that this examination can in the future be tried one session at a time: that is, candidates can do either the written or the practical in one year, and the other half another year. This makes the whole project much more approachable.
Throughout next academic year, therefore, starting in September, I would like to offer a series of six educational workshops to help members look at this exam and to discover that it's not nearly as difficult as it looks on paper! It can very easily be prepared, and I will gladly help members to do that, for either one section or the other, or both.
The first of these workshops will be held on
Saturday September 19, 2015
St. Stephen's Anglican Church (off Pinecrest Avenue, near the Queensway, lots of parking)
from 10 am until noon
I will schedule the other workshops as soon as we know how many members are interested in participating and what their schedules are like. For further information, please e-mail me at Frances Macdonnell, or call me at 613-726-7984.
Or, of course, if you have ideas for other Educational programmes which you would like the Centre to provide, please get in touch with me as well!
---
CENTRE HISTORY
Please note that this timeline can be found by selecting Centre Info | Web Archive pages | Ottawa Cente History Timeline on the menu above.
The Centre History kiosk made its debut at Orgelfest 2013. This is an interractive display which places significant events on a timeline. Bill Vineer supplied muich of the content and Rick St Germain put it all together. Click on the graphic below to access this display.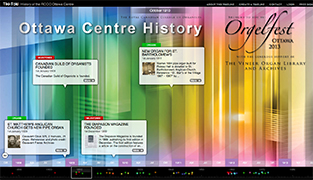 ---
For contact information, see our
Executive List
or press the button below.
---
©Copyright MMXV RCCO Ottawa Centre
RCCO-Ottawa Centre is a Registered Charity: 11912 6498 RR0001

This page has been validated by
w3.org
validation as XHTML 1.0 Transitional.
This page was last updated on: Tuesday, 26-May-15 21:33:15 GMT