RCCO Ottawa Centre
CRCO Section d'Ottawa




PO Box 2270 Station D
Ottawa ON K1P 5W4
Welcome to the Ottawa Centre of the
Royal Canadian College of Organists
Welcome to the Ottawa Centre RCCO website. Please use the menu above to browse our site. If you are using an older browser and don't see the menu then you can use the text menu at the bottom of every page.
The Ottawa Centre of the RCCO sponsors a variety of programs throughout the year, such as organ crawls, workshops, masterclasses, discussions, and dinners. The Centre also runs an organ concert series Pro Organo.
NEWS BRIEFS
---
PRO ORGANO OTTAWA
The next concert will be on Friday, March 4, at 7:30 p.m., at Notre-Dame Cathedral-Basilica on Sussex. The organist will be Sondra Goldsmith Proctor, who is Musician in Residence at St. Lawrence College in Canton, New York, but you will recognize her, because she is also a member of the Ottawa Centre, and travels the 1&frac12 hours to get here frequently for Centre activities. Before moving to Canton, she was based in Washington DC, where she taught music at many levels, and served as Director of Music and Arts at Westmoreland Congregational United Church of Christ. She has studied and performed throughout the East Coast, Europe and the Caribbean. Sondra Goldsmith Proctor's programme on March 4th will include a couple of pieces written for her by Rachel Laurin, and a piece by Gilles Leclerc, as well as pieces by American composers Richard Wayne Dirksen and Herman Berlinski. It will also include pieces by Bach, Franck and Widor. The complete programme will be posted soon.
When you come to the concert, you can park your car without charge in the lot behind the church, if you leave a note on the windshield indicating that you are attending an event in the church.
The concert information can be found on the Pro Organo page.
---
CENTRE HISTORY
Please note that this timeline can be found by selecting Centre Info | Web Archive pages | Ottawa Cente History Timeline on the menu above.
The Centre History kiosk made its debut at Orgelfest 2013. This is an interractive display which places significant events on a timeline. Bill Vineer supplied muich of the content and Rick St Germain put it all together. Click on the graphic below to access this display.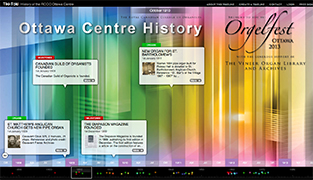 ---
For contact information, see our
Executive List
or press the button below.
---
©Copyright MMXV RCCO Ottawa Centre
RCCO-Ottawa Centre is a Registered Charity: 11912 6498 RR0001

This page has been validated by
w3.org
validation as XHTML 1.0 Transitional.
This page was last updated on: Monday, 18-Jan-16 05:19:33 GMT