RCCO Ottawa Centre
CRCO Section d'Ottawa




PO Box 2270 Station D
Ottawa ON K1P 5W4
Welcome to the Ottawa Centre of the
Royal Canadian College of Organists
Welcome to the Ottawa Centre RCCO website. Please use the menu above to browse our site. If you are using an older browser and don't see the menu then you can use the text menu at the bottom of every page.
The Ottawa Centre of the RCCO sponsors a variety of programs throughout the year, such as organ crawls, workshops, masterclasses, discussions, and dinners. The Centre also runs an organ concert series Pro Organo.
NEWS BRIEFS
Trip to Casavant
A small group had a wonderful day trip to Casavant frères during March break. Pictures of the trip are avaialbe for viewing.
---
Orgelfest website
The Orgelfest 2013 website has been archived and can be found by clicking on Centre Info | Web Archive Pages on the menu above.
---
Next Pro Organo Concert: Shawn Potter
The next Pro Organo Concert with Shawn Potter will be at Église St-François-d'Assise on Monday May 5. Details are on the Pro Organo page.
View Shawn's
Programme
.
---
STUDENT ACADEMY BUSRARY
At the Centre Executive meeting on November 24, it was approved that the Centre will provide up to four bursaries in the amount of $250 each to allow teenaged organ students from Ottawa, recommended by teachers who are members of the Ottawa Centre, to attend the Student Academy which is being offered at the RCCO National Convention, Festival at the Forks, to be held in London, Ontario, in July 2014. This bursary programme will also be carried on for future RCCO conventions which offer Student Academies (we believe that Winnipeg 2015 will have one too). The money is to be provided from the Centre's Development Fund, which is used for educational purposes.
Students, please plan to attend the Academy programme in London from July 6 - 8, 2014.
To apply for this bursary, please complete this application and mail it to the address onthe application. For further information please contact Frances Macdonnell.
---
CENTRE HISTORY
Please note that this timeline can be found by selecting Centre Info | Web Archive pages | Ottawa Cente History Timeline on the menu above.
The Centre History kiosk made its debut at Orgelfest 2013. This is an interractive display which places significant events on a timeline. Bill Vineer supplied muich of the content and Rick St Germain put it all together. Click on the graphic below to access this display.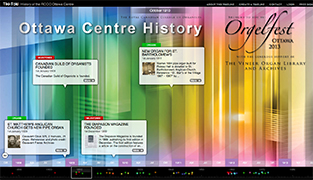 ---
For contact information, see our
Executive List
or press the button below.
---
©Copyright MMXIV RCCO Ottawa Centre
RCCO-Ottawa Centre is a Registered Charity: 11912 6498 RR0001

This page has been validated by
w3.org
validation as XHTML 1.0 Transitional.
This page was last updated on: Monday, 31-Mar-14 00:59:13 GMT