RCCO Ottawa Centre
CRCO Section d'Ottawa




PO Box 2270 Station D
Ottawa ON K1P 5W4
You are here:
General Information
The Godfrey Hewitt Memorial Scholarship Fund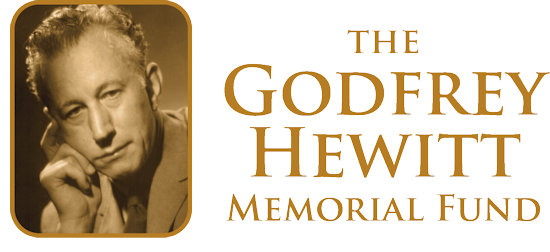 To encourage and benefit Canadian students in organ performance, and as a memorial to Dr. Godfrey Hewitt who was Organist and Choir Director of Christ Church Cathedral, Ottawa, from 1931 to 1980, the Ottawa Centre of the Royal Canadian College of Organists has raised over $180,000 to provide both a major graduate scholarship and a major competition prize in organ performance:
The Godfrey Hewitt Memorial Scholarship of $5,000 has been awarded annually to advanced Canadian organ students each year since 2005.
The Godfrey Hewitt Memorial Prize of $5,000 has been awarded as the Grand Prize at the National Organ-Playing Competition held by the RCCO bi-annually in conjunction with the College's National Convention in odd-numbered years since 2011.
RCCO Student Academy: The Fund grants $1,000 to each RCCO National Convention for its Student Academy, Ottawa in 2013, London in 2014, Winnipeg in 2015, Kingston in 2016 and Montreal in 2017. These Academies are given for students aged 16 - 25.
Godfrey Hewitt Annual Memorial Recital: The Fund now sponsors an annual Godfrey Hewitt Memorial Recital, when an RCCO National Convention presents a former Godfrey Hewitt winner, of either the Prize or the Scholarship. The first such sponsored recital was held in Winnipeg in 2015, when the RCCO Winnipeg Organ Festival presented Shawn Potter, who won both the Godfrey Hewitt Scholarship in 2010 and the Godfrey Hewitt Grand Prize in 2013. The second annual recital was held in Kingston in 2016, when the Kingston Organ Festival presented Isabelle Demers, winner of the Godfrey Hewitt Scholarship in 2006. The next were held in Montreal in 2017 when the Fund co-sponsored both the recital by Stephen Boda, who won the Scholarship in 2012 and the Prize in 2015, and the recital given jointly by Sarah Svendsen who won the Scholarship in 2013, and Rachel Mahon who won the Scholarship in 2015. If in a given year the RCCO National Convention is not able to present a Godfrey Hewitt Memorial Recital, the Fund will consider applications from other organizations which wish to present a Godfrey Hewitt winner in recital. (Previous winners of the Scholarship and Prize are listed on this website). Enquiries about presenting a future Godfrey Hewitt Memorial Recital may be made to Frances Macdonnell at fbmacdonnell@sympatico.ca or at 613-726-7984.
Both the Godfrey Hewitt Memorial Scholarship and the Godfrey Hewitt Memorial Prize are intended to increase the number of highly-trained organists in Canada, not only to serve as organists in churches, universities, and concert halls, but also to teach future generations of organ students. It is important that we encourage brilliant young musicians to continue with advanced organ studies.
The Godfrey Hewitt Memorial Scholarship is offered only to Canadian students or to landed immigrants in Canada, for graduate studies either inside or outside Canada; the Scholarship is awarded each spring on the basis of application with letters of recommendation, a recording of requested repertoire, and a study plan for the following year.
The Godfrey Hewitt Memorial Prize is awarded by jury decision as the result of a three-round competition, the last two levels of competition being held live at the National Convention.
Godfrey Hewitt, C.D., D.Mus. (Cantuar), FRCO, Hon. ARSCM, died in August 2002, aged 93. For over seventy years a prominent figure in sacred music across Canada, Dr. Hewitt left a very significant legacy to Canadian music. Born in 1909 in Yorkshire, England, he won early recognition with the Lafontaine Prize and the Limpus Prize for the Fellowship diploma of the Royal College of Organists. Having served as Organist for the Archbishop of Canterbury at Lambeth Palace in 1930, he came to Canada as Organist and Choir Director of Christ Church Cathedral, Ottawa, in 1931, where he remained for half a century, until 1980. In 1973 Dr. Hewitt was awarded the Lambeth Doctorate of Music by the Archbishop of Canterbury, one of only four Canadians in the twentieth century to be so honored; he was made a Member of the Order of Canada in 1976. Famed as performer, teacher, and composer, he also advised on the design and construction of many organs in eastern Canada.
He was the father of the internationally-acclaimed Canadian concert pianist Angela Hewitt, and the major events in support of this Memorial Fund were benefit piano recitals kindly given by Angela Hewitt in 2004, 2008, 2013 and 2015.
We encourage all those interested to support this worthwhile project using this donation form. All contributions will be gratefully acknowledged, and the names of contributors will be printed from time to time; Godfrey Hewitt's children, John and Angela, will be kept informed of the names of contributors.
PLEASE DONATE
You may use
this link for a DONATION FORM.

or donate on-line with the button to the right. You do
not
need a PayPal account to make your donation.
Tax receipts will be issued for all donations of $10 or more.
Please send contributions payable to the RCCO-Ottawa Centre to:
Frances Macdonnell
303-3099 Carling Ave
Ottawa ON
K2H 5A6

Godfrey Hewitt Scholarship information
Hewitt Scholarship General Information
Hewitt Scholarship Candidate Requirements
Hewitt Scholarship Application form
Past Winners of the Godfrey Hewitt Scholarship

Godfrey Hewitt Prize Information
Hewitt Prize General Information
Hewitt Prize Requirements
Hewitt Prize Application form
Past Winners of the Godfrey Hewitt Scholarship

---
©Copyright MMXVI RCCO Ottawa Centre
RCCO-Ottawa Centre is a Registered Charity: 11912 6498 RR0001

This page has been validated by
w3.org
validation as XHTML 1.0 Transitional.
This page was last updated on: Saturday, 15-Sep-2018 23:24:38 EDT